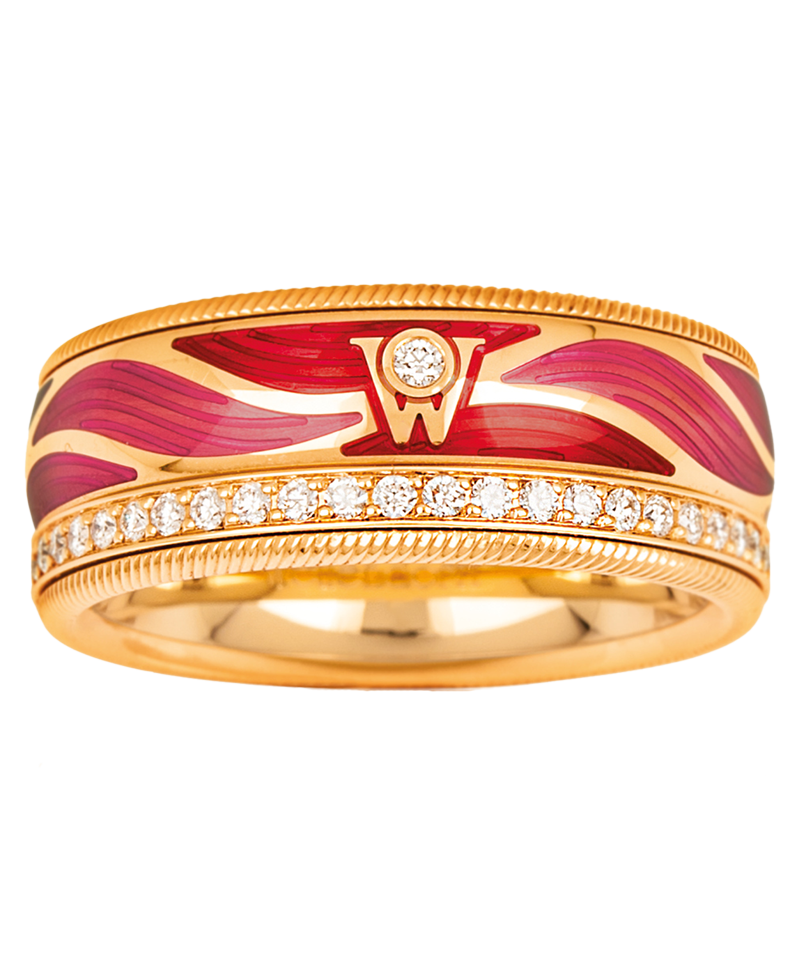 A lucky jewel, promising wellbeing and a happy life, the Lebensglück ring will bring success to whoever wears it. Its consistent wave-pattern engraved on the enamel seems to recreate the soft and sinuous movement of waves. Different shades of red illuminate and sculpt the material's depth.
Gold interlacing circles hem these scarlet waves highlighted by a fine row of diamonds. Like all Wellendorff rings, one notes the finely twisted craftwork inside the gold ring upon which the central parts pivot. This ring, whose different components turn on themselves, quickly becomes an addictive game. Mischievous and playful jewellery, one plays with the enamelled ring and diamond ring, as one would turn a wheel of fortune. To our greatest delight! The Lebensglück ring is part of a wider collection in bright and gay, blue, green, orange or various colours, all engraved with different patterns and rich with symbols. To every woman her talisman, to each her dream. Each ring is customised accordingly.
Wellendorff's little W is encrusted in the centre of the ring, accompanied by its faithful diamond that illuminates the enamel with a tiny ray of light. The jewellery work on this vibrant ring of happiness was carried out with the utmost care by the workshops of the German jeweller, founded in 1893 by Ernst Alexander Wellendorff. The jeweller has also catered to European royalty, a true benchmark and a bond of trust.