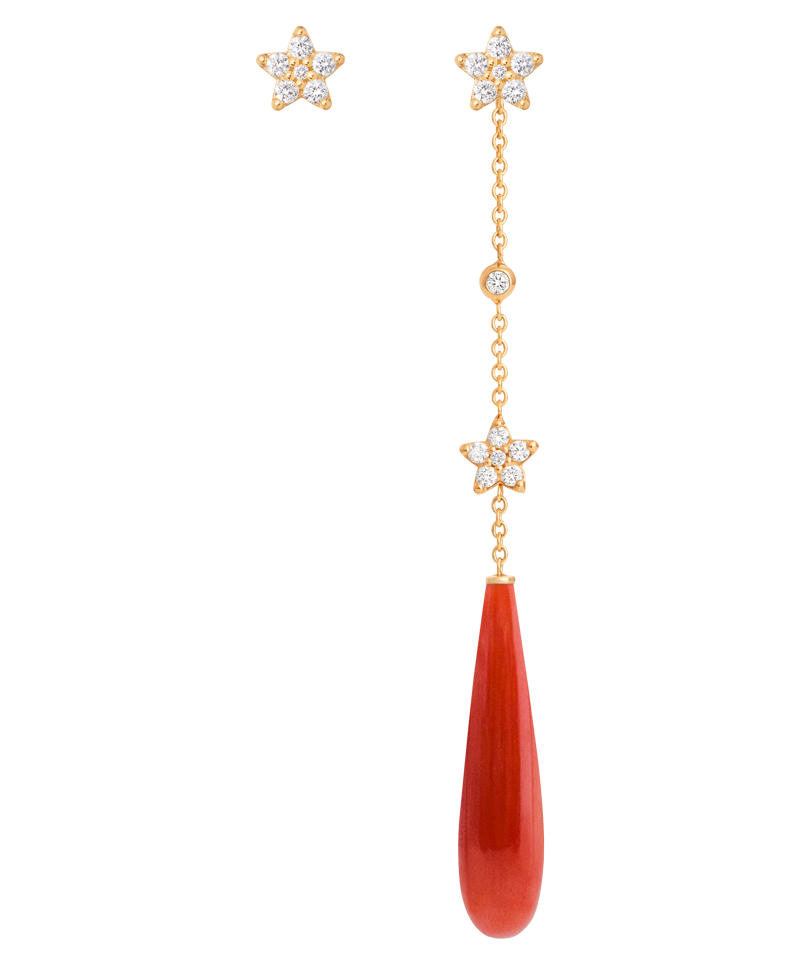 The Ole Lynggaard family has always loved wilderness, which must be preserved like a treasure. Be like the wilderness. Observe the silent night. Look at the sky and its galaxy, which are illuminated by millions of sparkling stars. Imagine your skin and your face being lit by these stars, by so many subtle nocturnal and celestial points of light.
Ole Lynggaard Copenhagen created SHOOTING STARS for supremely seductive women, who capture comets to adorn their beauty. The entire collection is made up of very delicate little stars that seem scattered into a poetic galaxy, as if they had been thrown in the sky by some playful fairy.
They subtly illuminate the earlobe, dangle from a gold thread or on a pendant, delicately posed within a satin-gold circle.
SHOOTING STARS models have the delicacy and subtlety of a precious and intimate jewel that the Ole Lynggaard Copenhagen House loves.
Soft-coloured and teardrop-shaped red coral that seems to have been polished delicately by the sea, perfectly accords with the little comets. This sea treasure reveals its scarlet and joyful glow to any face. A symbol of energy, it gives a healthy glow to any woman who wears it and highlights the radiance of her complexion.
The earrings are to be worn asymmetrically with a small star on one side and a long and thin ear-pattern on the other, on a chain punctuated with diamonds that give the piece a very contemporary touch of chic.