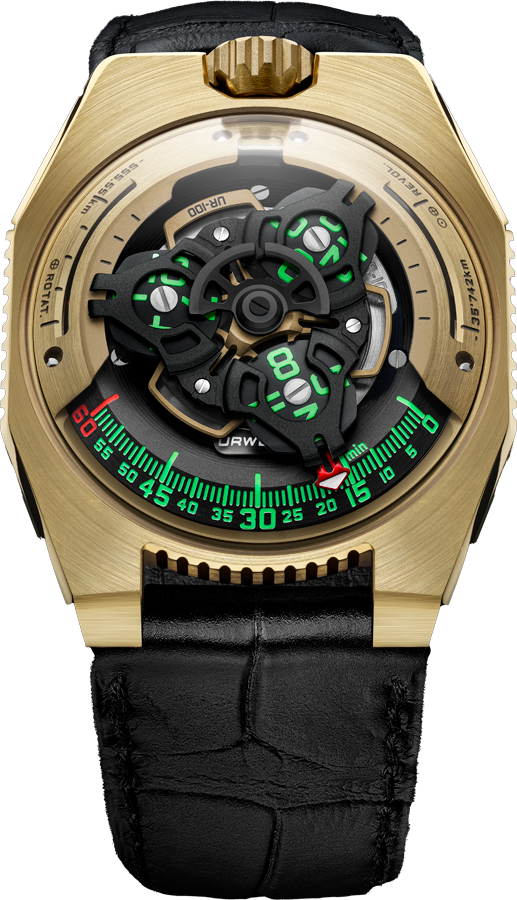 Movement
UR 12.01 with automatic rewinding system regulated by the Winfänger system with a propeller and a planetary gear, and 48 hours of reserve power

Functions
Satellite hours, minutes, distance travelled at the Earth's equator in 20 minutes, the Earth's revolution around the sun every 20 minutes

Case
2N 18ct yellow gold satin-finished 

Dial
Satellite hours in cast aluminium on titanium Geneva crosses, aluminium carousel, triple platinum in ARCAP

The URWERK 100 collection, modestly called UR-100, is the independent brand's newest creation, a truly iconoclastic vagabond of contemporary watchmaking.
URWERK created the iconic display, which became its technical and aesthetic signature: three swivel satellites each bearing four hour markers to indicate a 12-hour cycle, scrolling from right to left (or from east to west, like the path of the sun), along a minute counter in a semi-circle. As simple and intuitive as disruptive, this wandering feature is today a watchmaking staple of avant-garde collectors.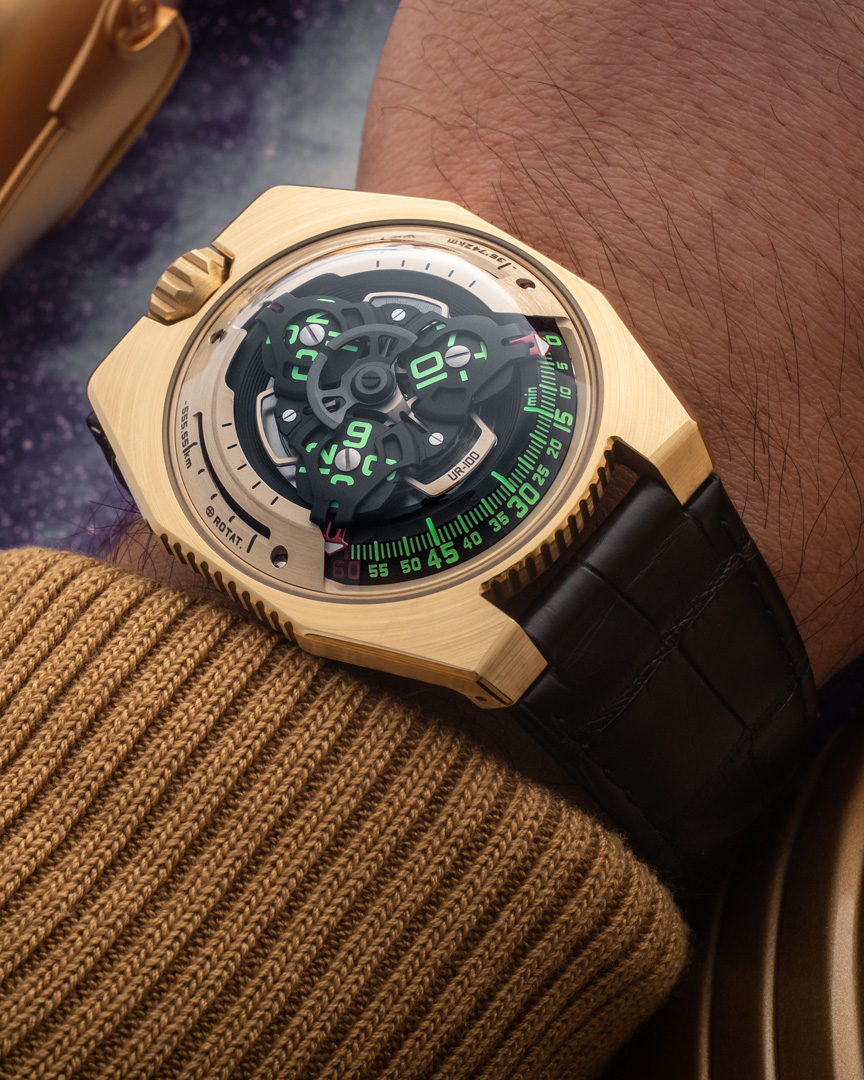 First of all, the new UR-100 embodies it with a thin case – extra-flat for a satellite watch! – with angular contours, with eight irregular sided, partially notched, edges. It is based on subtle asymmetrical work, cut into a solid 2N yellow gold block. The satin-finished case is topped with a flat sapphire bubble at its apex. A reference to the first URWERKs, this modulated curve serves as a navigation case for the UR 12.01 calibre, the true core of this spatial machine. The minutes are read on a fixed minute-track arched over 120 degrees. The hours run in front of these minutes. A red arrow marks the meeting of the two, making reading the time simple and intuitive.
Rewinding is carried out by an oscillating mass coupled to the UR-100's purpose-built regulator, the Winfänger. This planetary gearing limits rotor rotational speed to prevent excessive rewinding and component wear.
Finally, for inter-spatial travel connoisseurs, at 9 o'clock, a small slit opens to indicate the 555 kilometres travelled by the Earth at the Equator every 20 minutes. At 3 o'clock, the UR-100 displays the Earth's revolution around the sun, or 35,740 kilometres every 20 minutes.